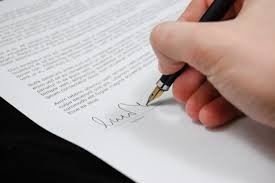 At Perreault Law Office, we can assist you with the formation and/or maintenance of your business, as a corporation, a limited liability company, a partnership (general or limited) or a sole proprietorship. We can also help you obtain your federal identification number for your company; file your annual report with the secretary of state, and manage contractual issues on behalf of your company. We can assist with the following documents in the formation or continuation of your company:


This is the legal document that legally creates your corporation and establishes general guidelines for your corporation. This document is submitted to the Secretary of State and becomes a public document after acceptance. This document typically includes:

Name of Founder
Name of Corporation
Place of Business
Purpose of Formation
Name and adresses of founding directors and registered agents
Signatures of involved partes

Corporate bylaws provide specific guidelines for how the corporation will function, as outlined in the Articles of Incorporation. These are typically created by the founder and do not need to be submitted to the state. Bylaws are admissible in the court of law and help to prove that the governance of the company has been carried out properly and in accordance with the guidelines outlined in the bylaws. Unlike the Articles of Incorporation, these are not public documents and are typically easier to amend, if necessary. Bylaws cover the following, as well as any additional information you may choose to include:

Corporation name and address
Terms of Service
Names of directors and officers
The election process
Amendment Procedures
Authorized issuance of stocks
Meeting procedures
Recordkeeping
By-laws can be as simple or as complex as your company needs. Perreault Law Office can help you craft the perfect guidelines to keep your company running smoothly for years to come.


Also called a stockholder's agreement, a shareholder's agreement outlines the rights and obligations of the shareholders as well as how the company should be run, and includes information on the company's management. This document is optional, however the main purpose is to protect the rights of shareholders, safeguarding minority positions and setting the price of future shares. Common provisions include:

Name of shareholders and their percentage of ownership
Restrictions for transferring shares
Pre-emptive rights for current shareholders concerning new shares
Details of payment in the event of sale of the company
Shareholder rights, obligations, and restrictions
Procedure for new and retiring shareholders



This document is filed with the Secretary of State to officiate your LLC. It includes the name and location of the business, as well as it's primary function, names of members and the registered agest, and appropriate signatures.


Like Corporate By-laws, Operating Agreements allow you to establish guidelines on how your Limited Liability company should be run. While not required by law in New Hampshire, these agreements are essential to the smooth operation of a business. What is included in an Operating Agreement differs but typically included are six core provisions:

Identifying Information - Name and address of business.
Statement of Intent - A statement acknowledging the business came into existance according to the LLC laws of the state it was filed in.
Business Purpose - A statement outlining the nature of your business. Often included is a clause that allows for change or expansion.
Length of Term - Most say the business will last until dissolved, though some LLCs are created for a specific and definite purpose.
Taxes - Elect either sole proprietorship, partnership or corporation.
New Members - Even single member LLCs may want a partner in the future. This provision is to allow changes in membership and set rules for new members.